Frequently Asked Questions
How Often Does Queensland Pioneer Steam Railway run?
We aim to operate public services 3 times a month between April and December and once a month from January to March.
What age do you cater to?
Our train can be enjoyed by people of all ages.
Loop Trains are great for young families with kids under 10.
Longer trips to Swanbank appeal more families with older kids.
Dinner trains & Murder Mystery trains are a real hit with couples and groups who want a great night out near Brisbane. (Currently unavailable)
How long is the trip?
Loop Line Trains taks 15 Minutes (temporarily unavailable).
Picnic Trains takes 90 Minutes
Optional Heritage Bus trip to the Ipswich Historical Society – allow 10 Minutes travel each way & 40-90 minutes to explore.
Queensland Pioneer Dinner trains take 4 hours.(Currently unavailable)
Is there parking?
Yes, Racecourse Station has 90 degree road side parking, while Swanbank Station has a designated car park.
Is there food & drink at Swanbank?
On Picnic Train days we welcome a number of external food vendors to the Swanbank Precinct. The selection varies each running day however three are usually available to choose from. Due to unforeseen circumstances some running days may have less variety.
Are there wheelchair facilities?
Limited wheelchair facilities are available. Please contact the booking office on (07) 3103 0871 prior to travelling.
Do you always run the Steam Train?
While QPSR tries to always provide steam motive power on Market and Picnic Trains, due to the nature of vintage steam locomotives, we may need to substitute a heritage diesel locomotive on part or all of a service.
Can I Charter QPSR?
QPSR is available for filming and limited Charter Hire, contact our booking office on (07) 3103 0871.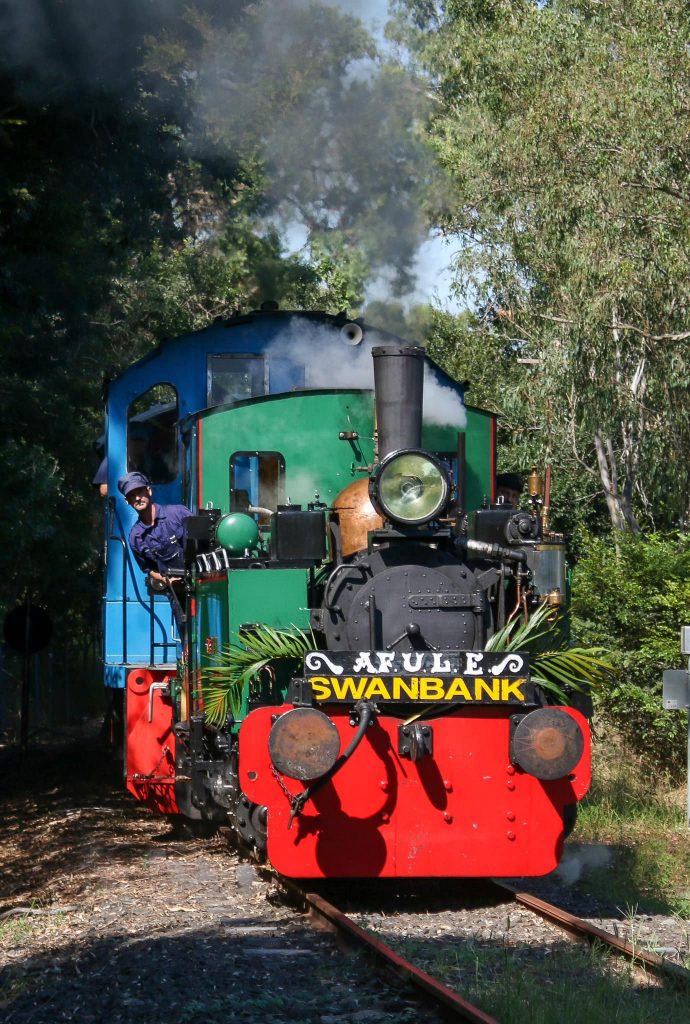 If you're into local history and traditional craftsmanship then put a visit to Cooneana Homestead & the Ipswich Historical Society. Featuring Blacksmiths, Spinners & Weavers, historical photographs, memorabilia, artefacts and mining displays that showcase the rich and diverse history of Ipswich - Queensland's oldest provincial city.
On our Picnic Train Days we operate in conjunction with the Heritage Bus's of the Heritage Bus Association. These vintage buses offer a sedate 15 minute service to the Ipswich Historical Centre departing from Swanbank Station
For more info on their services, collection click below.
Swanbank Station houses the Station souvenir shop, the education carriage, the station green (which hosts the food van) and over looks the picturesque lake full of bird life.

The Education carriage house a miniature train set and various items of interactive displays.
The Age of Industry Recaptured
Coal in the vicinity of the Racecourse Area had been found as early as 1860, resulting in the neighbouring region being named Blackstone. However, it was the discovery of a new seam – the Aberdare, in the 1890's that the region opened up, leading to no less then seven new mines. This was by far the most productive coal seam in the district at the time.
In 1881, the mine owner Lewis Thomas received parliamentary approval to build a 2 km tramway from the Main line at Bundamba to his coal mine at Blackleg Gully. This was followed in 1886 by a 1 km extension to the West Moreton Colliery at Swanbank and finally the line was extended from the West Moreton Mine, three kilometres to New Swanbank Colliery in 1895.
Thomas's Railway Line was then purchased by Queensland Government Railways on 1 January 1897.
A vast number of the mines along the line were named after mines or regions back in the United Kingdom & predominantly Wales & Scotland, these being Bonnie Dundee, Aberdare, Cardiff, Noblevale (a pronoun used before many Welsh towns) & Ebbw Vale. The reason for this was that most miners & mine owners at that time were either Welshmen or Scotsmen who had been brought up on mines in their home lands. There still remains a large population of their descendants in the Ipswich Region.
As you sit back on your trip to or from Swanbank you can keep an eye out for the remains of the mines & the industrial past of the Swanbank Branch.
You can discover more about the mines at the Ipswich Historical Society, a short Heritage Bus Trip from Swanbank Station on Picnic Train Days.
The Carraiges of Our Fleet
QPSR operates two distinct carriage sets in its operations which offer two very distinct experiences of Queensland Railway past.
The first consists is our vintage timber set. Made up entirely of Ipswich built carriages dating from as early as 1880 and feature varnished timber interiors, opening windows, wrought iron balconies and leather seats. In this set is also the last surviving prison carriage in the state.
The second is our 1953 vintage Air-conditioned consist of former "Lander" Carriages. Now known as "The Queensland Pioneer" this train features onboard dining facilities, bar areas, compartment rooms with hot and cold running water.